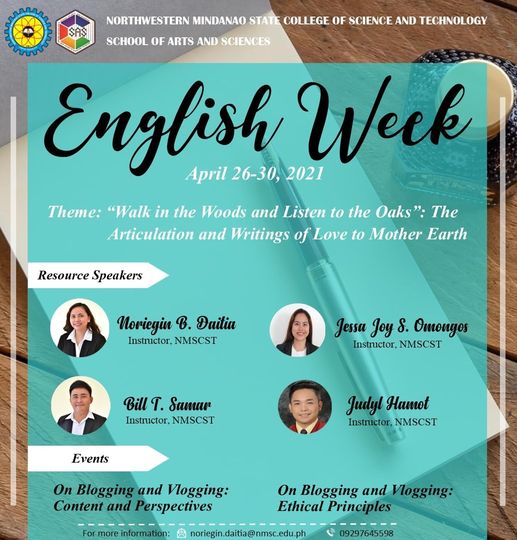 In Celebration of English Week (April 26-30, 2021), with the theme, "Walk in the Woods and Listen to the Oaks": The Articulation and Writings of Love to Mother Earth, the Language and Literature Department will be conducting a series of lecture on blogging and vlogging, including its essential considerations, particularly ethical principles in publicizing works and technicalities for video presentations.
This activity will serve as a platform for students to showcase their creativity and innovativeness in producing noteworthy blogs and videos that will tackle social and environmental issues. And most importantly, to encourage them, the NMSCST students, to have a voice in today's changing world.
Tomorrow's event will constitute four lectures, two lectures in the morning (10am-12pm) and two in the afternoon (2-4pm).
The lecture series will be commenced with the talks on Blogging and Vlogging content, followed by Ethical Principles and Video Technicalities. See you virtually via Facebook Live at NMSCST page!