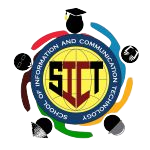 SCHOOL OF INFORMATION AND COMMUNICATION TECHNOLOGY CURRICULAR PROGRAM
---
Bachelor of Science in Information Technology (BSIT) Download Prospectus
The Information Technology program aims to prepare students to utilize both hardware and software technologies involving planning, installing, customizing, operating, managing and administering, and maintaining information technology infrastructure that provides computing solutions to address the needs of an organization. It also prepares graduates to address various user needs involving selection, development, application, integration and management of computing technologies within an organization.
Bachelor of Science in Information System (BSIS) Download Prospectus
The Information Systems program aims to prepare students to implement an information system, which considers complex technological and organizational factors affecting an organization. These include components, tools, techniques, strategies, methodologies, etc. Help an organization determine how information and technology-enabled business processes can be used as a strategic tool to achieve a competitive advantage.
Bachelor of Science in Communication Technology (BSCT) Download Prospectus
BS Communication Technology is the systematic planning, implementing, monitoring, and revision of all the channels of communication within an organization, and between organizations; it also includes the organization and dissemination of new communication directives connected with an organization, network, or communications technology.
Aspects of communications management include developing corporate communication strategies, designing internal and external communications directives, and managing the flow of information, including online communication.
Bachelor of Science in Animation and Multimedia Arts (BSAM) Download Prospectus
Bachelor of Science in Animation and Multimedia Arts (BSAM) aims to prepare students to demonstrate knowledge and understanding of multimedia theories, genres and approaches in the applications of multimedia and animation; demonstrate technical proficiency in the use of appropriate hardware and software in the production of multimedia and animation systems; exhibit creativity and innovative thinking in the design of multimedia and animation projects; and, engage professionally and ethically in the practice of the profession and other community contexts.
Graduates of Animation and Multimedia Arts bring ideas to life from all kinds of industries -- beyond just entertainment and media. Along with others, they put their skills and imaginations to work everywhere from film, TV, games to medicines, education and even law. They are able to design and develop visual media. Design and create new media projects spanning print, web, games, animation and films. Develop concepts, create characters, special effects, design background and scriptwriting. Design games and model characters or objects.
Multimedia Artist and Animator , Multimedia producer, Graphic Artist, Web designer, Web developer, Digital imaging specialist, Multimedia scriptwriter, Interactive designer, 2D / 3D Modeler, 2D / 3D Animator, Background Artist, Character Animator, Clean – up artist, Digital ink and paint artist, Image Editor, Key frame animator, Video Game Designer, Motion Graphic Technician, Storyboard artists, Film and Video Editors, Special effects animator.